Project Info
Digital painting of an exhausting victory. Done in 2013.
Skills
Program used while creating this project: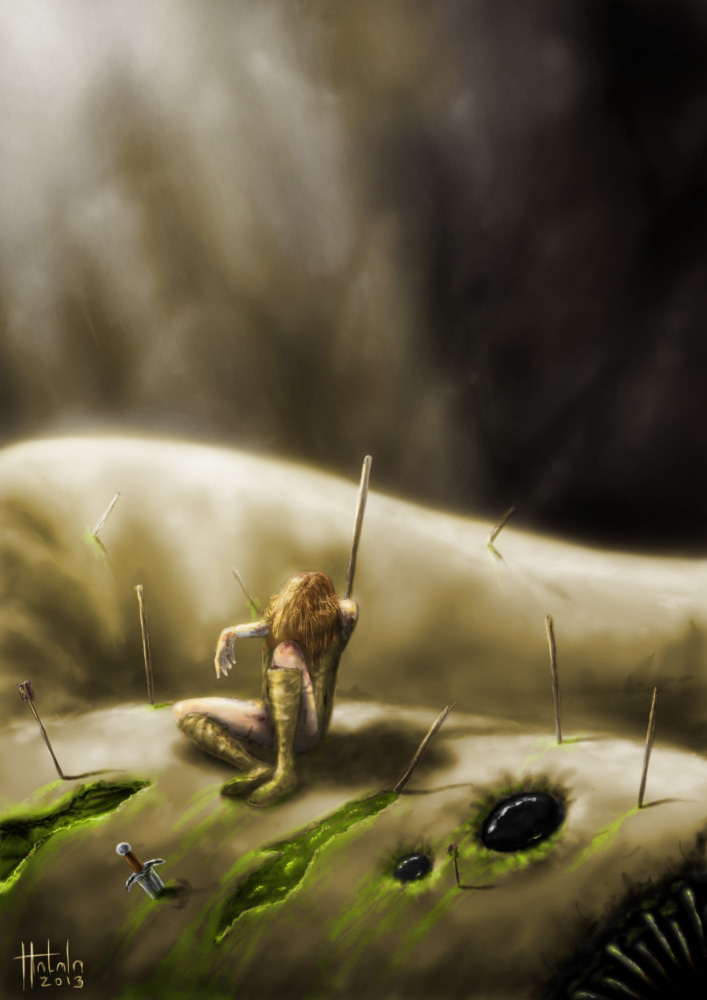 This painting was kind of a adventurous first step for me. Up until that time I was really stuck on just learning the skill of digital painting and any new object in the scene presented a new issue I need to deal with. However, with this painting I have decided to actually build a scene rather than just focus on a single figure floating in space—the aftermath of a long and tiring battle with some monstrous creature and the exhaustion of the victory. I liked the concept. It has a story behind it.
What I didn't like was the gruelling process of getting this finished. It took forever since everything took forever to paint at the time. The figure, the hair, the worm-thing. It was a struggle not to abandon it half way through. Thankfully, it was a scene, so it would not work if not finished.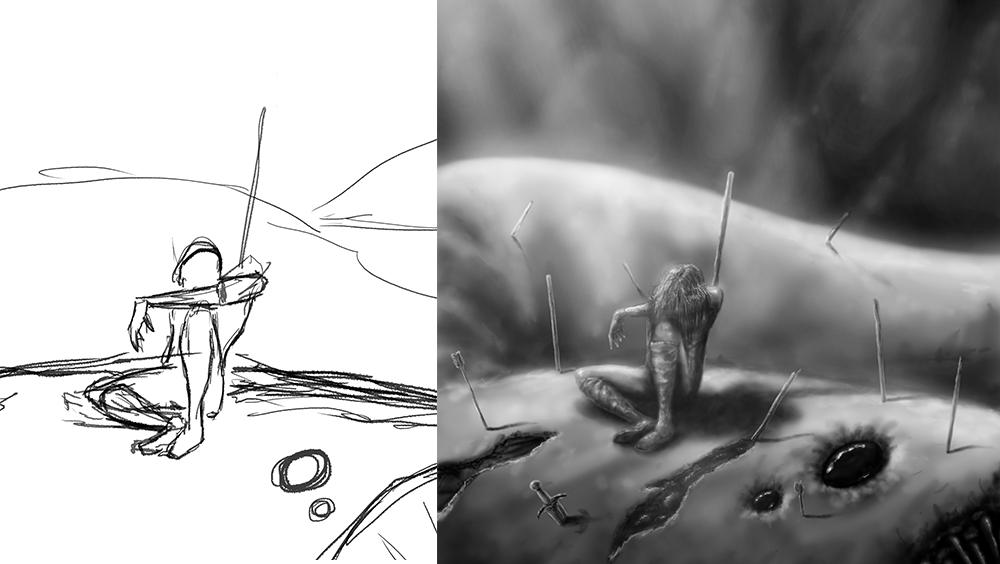 Not a True Victory, but Getting Close
The sketch for this one was really quick and it only gave me a sense of proportion and composition. That might have been the first mistake right there. Even in the sketch the proportions of the figure were slightly off, but I was too eager to start the "real work" that I actually missed these issues. I was overly motivated by the quick painting videos on Youtube where in five minutes a whole awesome scene appears out of a blank page. The magic of speeding up a video, of course, but it looks so simple.
Well, it fucking wasn't… The black and white shading of the figure took forever to finish and then there was still the rest that needed to be done. I fell into my typical cycle of frantic work and days of not touching the picture at all (out of frustration that it takes longer than I anticipated and it is not looking perfect) in between. I finally gathered enough courage to open and finalize it while accepting the mistakes that were already worked in.
I thought about revisiting this piece, but then I realize that seeing the mistakes there is what actually pushes me and motivates me to try herder on the next painting. Simply because it shows me the way I walked years ago.