Project Info
A digital painting done in 2013 capturing a wild female shaman.
Skills
There were more then one program used while creating this project: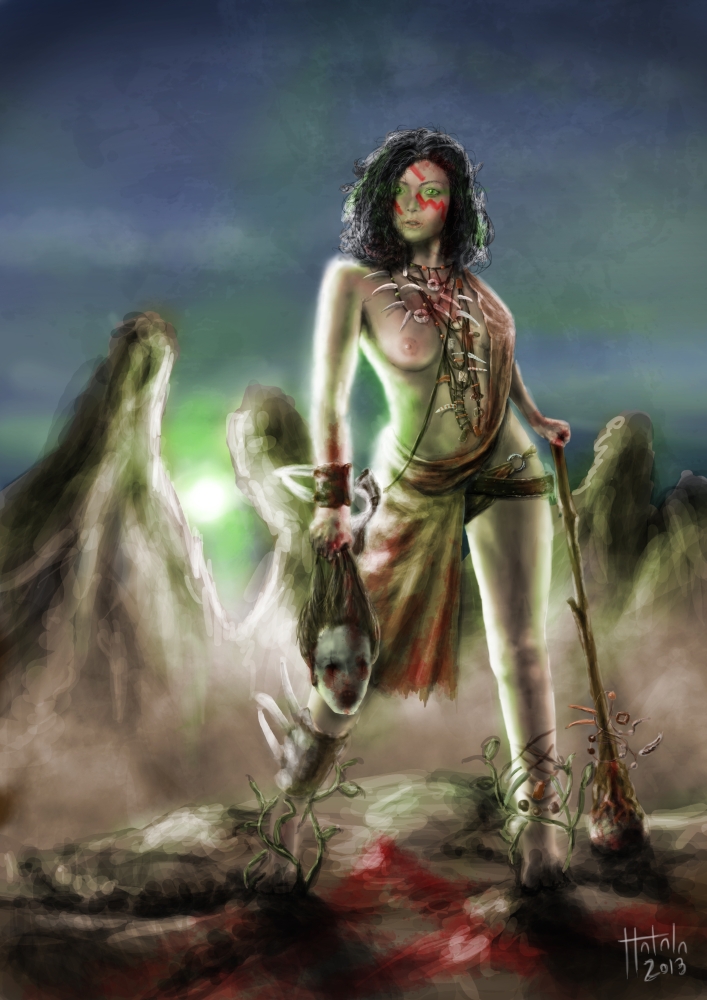 The Shaman is a digital painting of female shaman in a mystical landscape – original size is 50×36 cm. The painting was done in Adobe Photoshop and even thought it was not meant to so, it became a nice addition to my portfolio.
This particular piece started out as a quick painting and a training of working with multiple brushes – namely rough and soft edged ones to differentiate between materials of different qualities, such as skin and cloth.
After having a rough sketch and a really fast shading in place, I decided to move on and try to build this into a full, stand-alone painting that would radiate wild and somewhat magical atmosphere. Part of the experiment was to "blur" the out of focus of parts of the image by not adding the finishing touches and keeping the in a very rough and not at all detailed level of painting.
I first started the work on this painting in June 2013 and after only a couple of hours, kept in on my To-Do List for months. Maybe it was just a lack of time, maybe the provocative nature of the image or maybe it was the fact that I did actually see quite a potential behind this piece and was afraid I might not be able to finish it in a level that would match my expectations – I am not sure, but it took a lot of time and quite some effort to get back into the piece, do the finishing touches and finally wrap up.
Event hough not entirely satisfied, I still feel pretty good about the Shaman painting – the overall tone, lighting, landscape and visuals. I wish more of my speed-painting exercises would produce such results.