Project Info
Digital painting, figure and composition study done in the spring of 2019.
Skills
There were more then one program used while creating this project: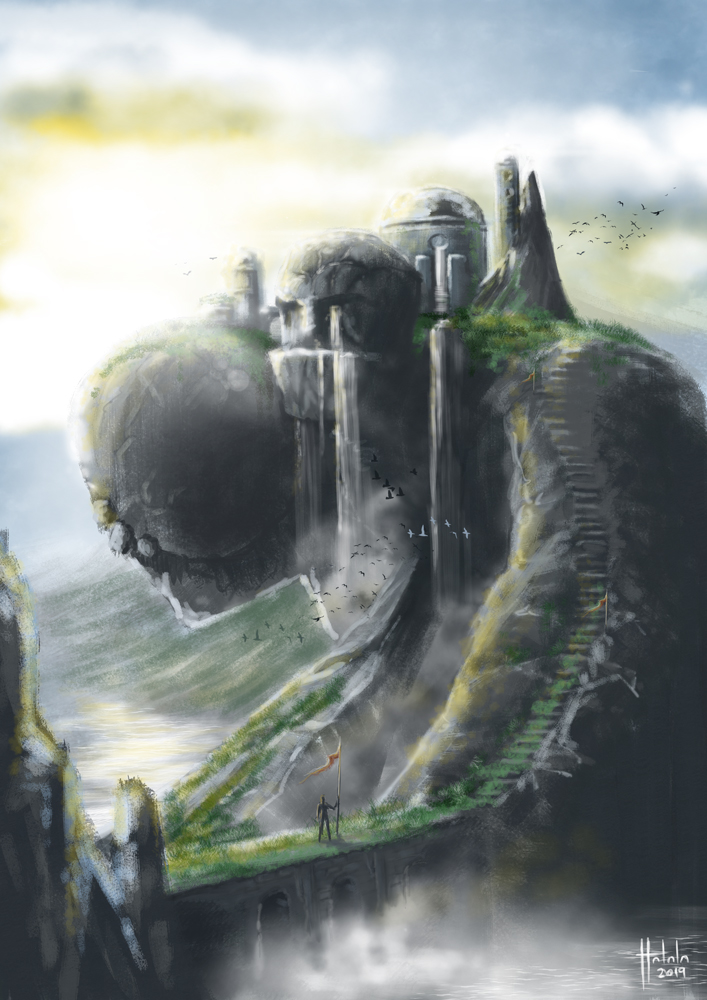 I love fantasy landscapes, they present a sense of awesomeness and inspiration and every time I see one I always think to myself "i would be fantastic to visit this place." This is exactly the reason I started working on this particular piece. A settlement built on the shoulders of the dead giant.
Okay, maybe not a giant one, but still a pretty big step for me. However, one can watch only so much Bob Ross before actually trying to paint a landscape. It looks so relaxing and fun. How hard can it be? Well…
I struggled with landscapes for quite some time. There is so much going on, the light needs to look natural, yet better then natural, the background is not just a background… It took me a while to gather enough courage and actually go ahead and actually try it.
I also somewhat fell in love with a dry charcoal brush. (It can be quite clearly seen on most of my paintings after this one.) I guess Bob Ross has something to do with that too—he uses the these little brush imperfections to create an illusion of distance and randomness of the landscape. This fairly hard to reproduce in digital painting (which is somewhat ironic, when you think about it), but the charcoal brush does a fairly good job of imitating this effect. It also provides a lot of freedom in shading and mixing of colors—especially since I am getting more and more into working with colors directly rather then adding them to finished gray-scale painting.
This was more of an experiment, but with some effort it yielded my first fantasy landscape. Hopefully there is more to come.