Project Info
3D Environment – Combination of Mudbox and 3Ds Max modeling workflows was used to create an ancient looking environment, that would be strong on atmosphere. Created in 2014.
Skills
Alpha version of Corona renderer was used for rendering and material work.
Photoshop
3Ds Max
Mudbox
Corona Renderer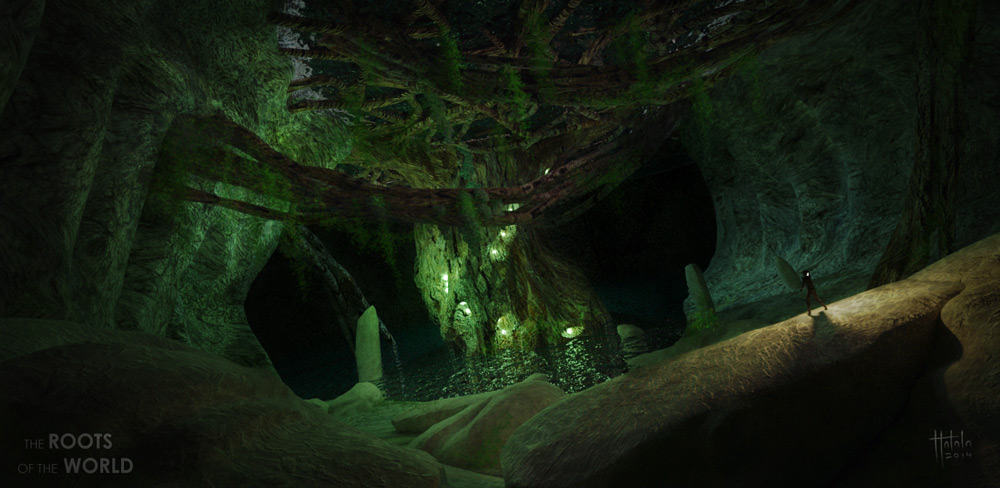 JRR Tolkien once stated that he in fact loves trees. I understand his stand – trees being proverbial elfs to us – living much longer than us, growing endlessly, calm and majestic. I understand it, but I don't quite share his feelings. But, I can be a best friend to trees and we'll see how it goes. However, there is, without a doubt, something captivating and mystical about trees. So, making them ancient and gigantic makes them even more captivating, right? It is the very same principle that works so well in Munchkin.
This piece was about to be a digital painting, but I tried a 3D instead and wanted see how it would turn out. This is obvious first step towards making this a live 3D environment – in CryEngine 3 maybe?
Working with materials and lighting to create a mystical, yet grandiose atmosphere took most of my time, if I don't take rendering time into account.
Using Alpha version of Corona Renderer was fun and quick and gave me just the result I was hoping to get. It was a very nice change from Mental Ray and V-Ray, which are both fine, but much less flexible and much less user friendly.
And even though there is much space to improve this work and turn it into fully modeled and lighted environment, the atmosphere soaked in pretty quickly. If there is more time, I will be sure to roam back into this cave a take a closer look at the Roots of the World.
I am wracking my brain, right now, trying to remember how and why this idea of a giant ancient tree supporting an waterbed came around. I honestly can't tell. Actually, it kind of feels as it was always somewhere in my head… Creepy, ha? Maybe there are in fact these giant roots of the World, deep under the oceans – waiting to be discovered. That would be great, because then I could be like "I knew it all along…"
Maybe not… I guess, I have to classify this as yet another free-time project that just happen to captivate me so much I actually managed to give it almost a "finalized" look.